53 Premium WordPress Themes at 7 Cents Each
What's the better deal than this when it comes to buying premium WordPress themes? If you are a serious blogger, having a premium WordPress theme that you can easily customize to fit your blog's theme is a big advantage. First, Premium WordPress themes come with great technical support so that if you encounter problems along the way, you can always ask you tech support guy about solutions. WordPress also updates every now and then so there are great chances that you also need to upgrade your WordPress theme to make it compatible with the latest WordPress version. The most irritating part of not having a premium WordPress theme on your blog are the footer links that come along with the free themes. This is the most common condition that free themes have nowadays. You can use their free themes in any way you want as long as you keep the footer links intact. And, since the footer is encrypted, you have no choice but leave the footer links as is if you really want to use such themes. In premium themes, on the other hand, the files that you can download also include the Photoshop files so you can easily edit the layout such as changing the logo or the background of your website.
Most premium WordPress themes, however, can be purchased at around $50 each, basic package.  So if you are like me who is  maintaining several blogs running on WordPress, then buying a premium WordPress theme for every blog topic or niche that you have would cost you so much. That is why I was so happy when I came across this site where you can have access to all of their 53 WordPress themes (and counting!) by paying only $39 (that is like paying around .73 per theme!).  That is really a great value. On top of that, you also get access to the 2-3 new premium WordPress themes added each month as well as full access to their superb support services. Plus, you have the assurance that your WordPress theme will always be up to date and compatible with latest version of WordPress.
Interested to know about this service? Then continue reading this article…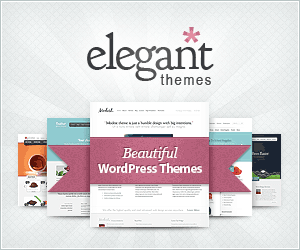 Yes, I am talking about Elegant Themes. Here, the Premium WordPress themes are fine, clean and elegant that can fit perfectly for several blogging niches—from basic and minimal themes for blogs, gallery themes which are perfect for photo blogs and other gallery-type websites, news or magazine themes, themes for portfolio sites, eCommerce themes, even corporate themes that you can use for your company, and many more. All premium WordPress themes are also guaranteed to function properly in the dominant browsers and have been tested to ensure that. It is also worthy to note that all sidebars on these premium WordPress themes are ready for widgets and some are ready for AdSense ads right out of the box. One of the nicest features of premium WordPress themes from ElegantThemes is the easy customization using the famed ElegantThemes ePanel.
In terms of licensing, Elegant Themes uses a membership system and there are two license options. The basic license gives unlimited access to all premium WordPress themes for a full year. You  can make any changes to customize the theme to your personal requirements without giving credit to Elegant Themes. The only restriction is that you can only use the Premium WordPress themes on sites that you personally own and no redistribution is allowed. If you are a web developer who wants to use one of these Premium WordPress themes as a part of a professional web design or development service, you need to pay the one-time distributor fee of $89 upon signing up. This gives a more advance license to use all the Premium WordPress themes on as many domains as you like and you can modify the themes to your liking or even use these themes on sites that will be sold to others. The distributor license, however, does not include selling the actual theme itself. It must be packaged with a domain name that is sold as a complete project to your clients. The yearly membership fee is the only expense required to continue using all themes released during your year of membership. You can cancel your membership and still use the premium WordPress themes you downloaded during the membership free of charge for as long as you wish.
So what's the better deal than this one? If you know any, then let us know by posting a comment below. Meanwhile, below are some of the latest Premium WordPress themes released by Elegant Themes.
Premium WordPress Themes #1- Nova
The newest addition to the premium WordPress themes that you can download from Elegant Themes, Nova is a sharp, simplistic design that makes for an intuitive user experience. Nova's biggest strength is its homepage, which allows you to organize your content into two areas. The Featured Slider is perhaps the most versatile slider that Elegant Themes has built, and comes with multiple slider variations that breath new life into the design. This Premium WordPress theme is perfect for a portfolio site of a designer, an architect, etc.
Premium WordPress Themes #2- The Style
This theme features a crisp and modern design, giving your blog that unique visual impact you have been looking for. With its unique jQuery-enhanced fluid width design, your posts always get displayed in a way that is best suited for your visitor's resolution.
Premium WordPress Themes #3- Deep Focus
With this premium WordPress theme, you can turn your WordPress blog into a fully functional online photo gallery while still maintaining all of the features of a normal blog. Along with the gallery layout, DeepFocus comes with a robust blog and CMS-style homepage as well, making it an amazing solution for artists/photographers looking to build an online presence.
Premium WordPress Themes #4- E-Store
eStore provides an elegant solution for those looking to sell products online. The theme is easy to configure, and offers integration options with some of the most popular (and free) ecommerce plugins, including eShop and Simple PayPal Shopping cart. Also, due to the open-ended nature of the design, adding support for additional shopping carts won't cause a headache. If you are ready to bring your business online, then get started today with eStore!
Premium WordPress Themes #5- E-News
e-News is an exercise in crispness and subtlety. This elegant and professional news theme is great for anyone looking display a lot of content in a clean and user-friendly manner.
If you like these premium WordPress themes, then check out other gorgeous themes from Elegant Themes! You might find just the right theme for your website. Enjoy!
SIMILAR POSTS:
WANT MORE DESIGN NEWS & FREEBIES? GRAB OUR RSS FEED