18 Best Photoshop Brushes for January 2010
Here is our best Photoshop brushes for the month of January 2010. As usual, we picked only those creative and unique brushes with decent resolution. We also add variety that's why we picked up not only those abstract brushes but also decorative brushes and even brushes that you could use in designing you Valentine-themed designs.
So here are our top 18 brush sets for this month which are listed in no particular order. As in any design freebies, always check first the terms of use before using these brushes as the license may vary from one brush to another.
01-50 Deadly Tron Grids by Arcnerva
Once again Arcnerva staples your eyes open with another exclusive Brusheezy Photoshop brush release. Its 50 Deadly Tron Grids. 10 hot pink fingernail painted handfuls of 80's new wave graphic design ready for your greedy hard drives. You can use these brushes to spice up your family memories, make your art more technological, bring on the singularity, etc.
02-15 Vector Ink Strokes by Web Graphics
A set of 15 ink strokes you can use as Photoshop brushes in vector format. The advantage to use vector files is the possibility to scale them without lose image quality. Take a look at the set!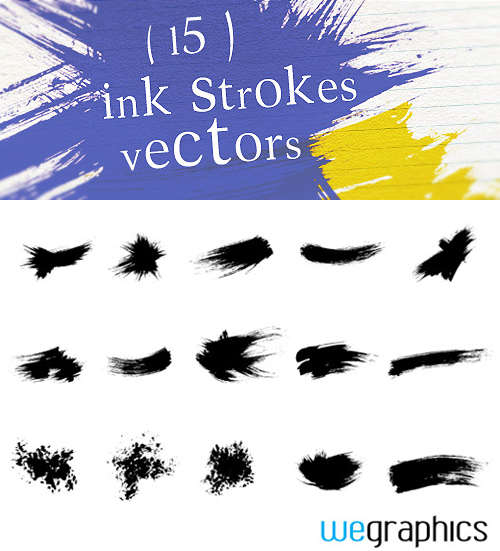 03-Glow Brushes II by Hawksmont Universe
A set of glow brushes to play or to do whatever you actually wanna do with them. There are 15 huge brushes made with Photoshop 7.0. They are actually generated with Apophysis and are the best for backgrounds of any kinds.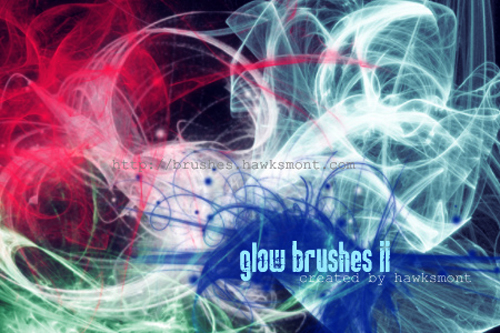 04-Valentine Heart Doodles by Photoshop Free Brushes
This is the sixth in a series of Valentine's Day brushes for 2010 from Photoshop Free Brushes. This set is composed of heart doodles. Perfect if you want to create a natural sketched look for your web designs, post cards, anniversary cards and other types of designs. The heart doodles Photoshop brushes was created in Photoshop CS2 with resolution of each Photoshop brush ranging from 200 pixels to 2500 pixels.
05-Mateu7's Watercolor Brushes by Mateuseven
Here is a set of Photoshop brushes composed of some realistic watercolors. We agree that these are better than those digital crap watercolor effects or fake custom watercolor brushes you can find online.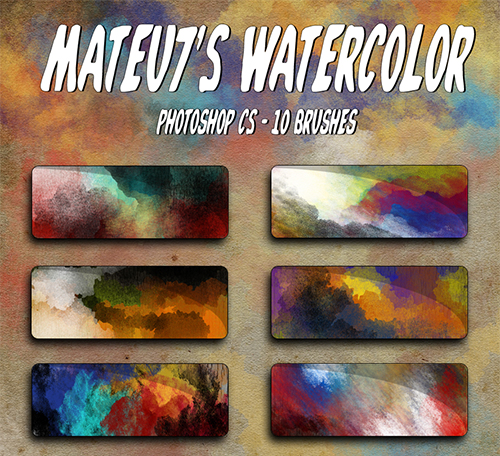 06-Technical Brushes BEST OF 250x from Basstar
A huge set of 250 technical brushes of medium resolution that you can use for creating high-tech backgrounds in Photoshop. Perfect for creating website backgrounds or wallpapers that revolve around high-tech themes.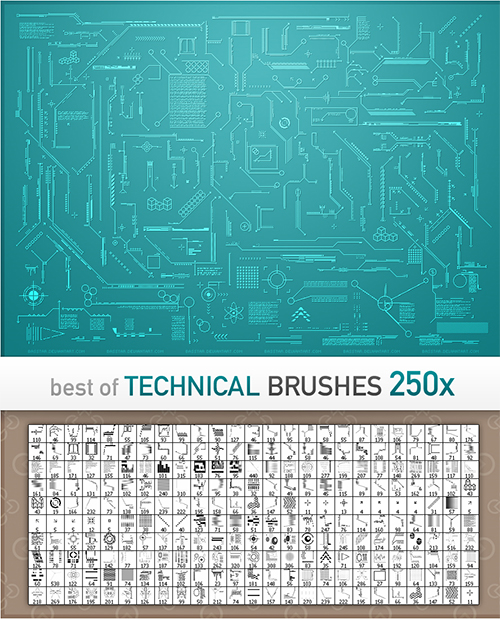 07- Dried Blood Splatters by Photoshop Tutorials
These splatter brushes were created with watercolor dried on lightweight paper to simulate the look of dried blood. These Photoshop brushes can be used to create blood, paint, or paint in UV light. This set contains 117 blood splatter brushes.
08- 24 Clouds Photoshop Brushes by Mila Vasileva
A set of high resolution Adobe Photoshop brushes composed of 24 brushes created from real clouds.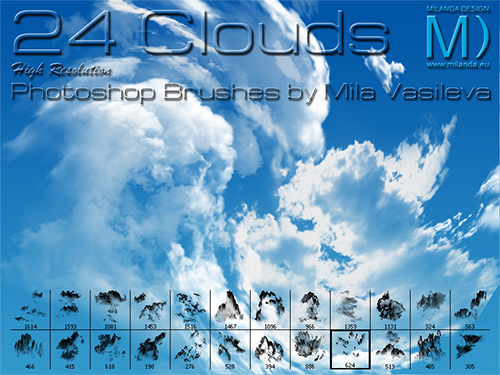 09-Solid Tech Rings Photoshop Brushes by Photoshop Tutorials
Upgrade your photo manipulations with these high-tech circle designs! With over 1000 brushes in this set organized from simple to complex, you'll have no troubles finding the right one for your Photoshop artwork.
10- Watercolor II by Grayscale Stock
This is the second set of Watercolor brushes from the author. These brushes were tested in Photoshop CS3. However, for those who are using lower versions of Adobe Photoshop or other applications, a PSD file is conveniently included in the download pack for you to use instead.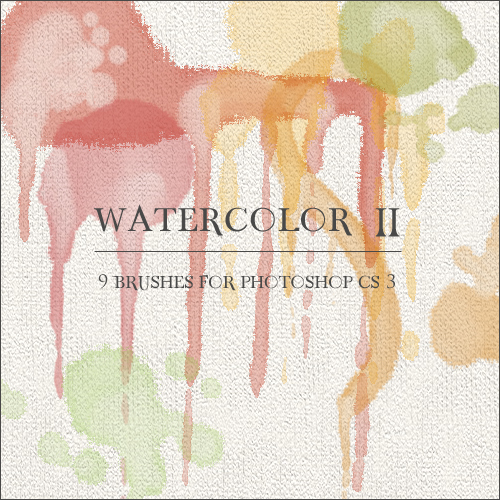 11- 15 High Resolution Moldy Paper Photoshop Brushes by Colorburned Studios
A set of 15 high resolution moldy paper brushes for Photoshop. This is a great set to add a bit of grunge or texture to your design.
12-Realistic Bokeh by Aoki
Bokeh is a Japanese term used in photography. It is used to describe the qualities of the area of a photo that is out of focus, and is used to help draw your eye to the subject of the photograph. Some pretty cool things happen with bokeh, too, and that's what these brushes will help you to create.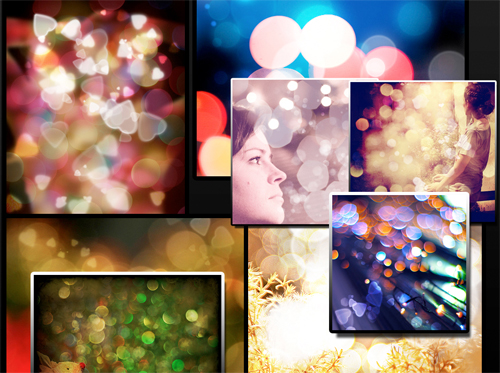 13- Smoke Brushes by Pendlehex
This is a set of smoke brushes that you can use free for creating dramatic backgrounds. Created with Photoshop CS3, this Photoshop brush set should also work with CS4 and Elements.
14-Oriental Brushes from Pendlehex
A set of Photoshop brushes composed of Asian symbols and images that you can make in making Asian-themed designs. Created in Photoshop CS3, these brushes also work with Adobe Photoshop CS4 and also compatible with Elements.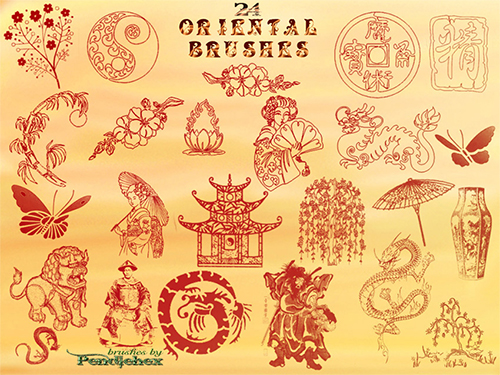 15- Corner Brushes from Pendlehex
This is set includes 20 corner brushes you can use to frame your photos or texts. Perfect for scrapbooking projects and for picture postcards. These brushes were created in Photoshop CS3 and works with Adobe Photoshop CS4 and Elements as well.
16-Valentine I by Grayscale Stock on Deviantart
Valentine's Day is just less than a month away. So here is a set of 12 Valentine brushes composed of hearts and swirls that you can use for creating wallpapers, e-cards, postcards and so on for your loved ones. These brushes were tested in Photoshop CS3. However, for those who are using lower versions of Adobe Photoshop or other applications, a PSD file is conveniently included in the download pack for you to use instead.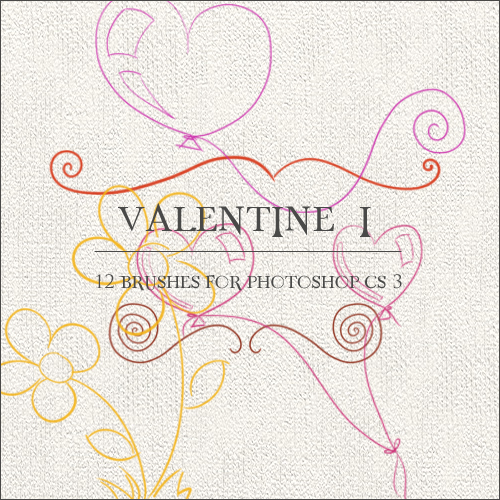 17- Strokes and Spills brushes by Lorine
This is a set of Photoshop brushes composed of brush strokes and spills. You can use them to create abstract and grungy backgrounds for your wallpapers, web banners, cards, etc. These brushes were tested in Photoshop 7, CS, CS2, CS3 & CS4.
18-Valentine Mega Art Brush Set by Diamara
And then another set of Valentine-themed Photoshop brushes. This set of high-resolution hearts ,cards templates and elegant background brushes . These brushes are useful as background or to highlight other elements in your designs. You can make many templates out of these hearts brushes. These Valentine Art brushes are useful for creating greeting cards not only for Valentines Day but for other occasions as well such as BD, anniversaries, etc.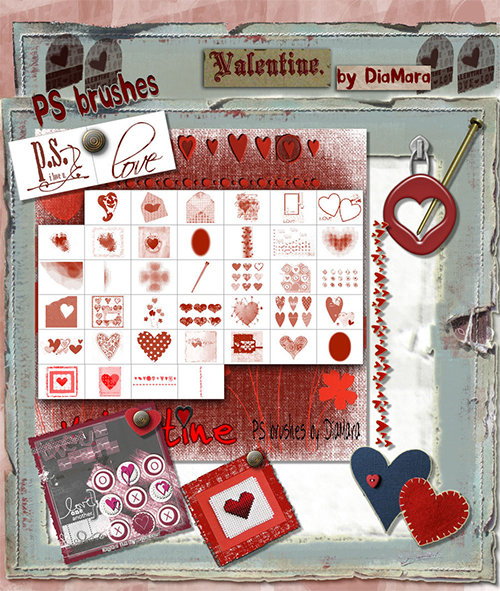 SIMILAR POSTS:
Note: All visual content featured on this website are copyrighted to their respective rightful owners. No infringement intended. Please read the Terms Of Use of these images/resources before using to prevent unwanted occurrences. Unless otherwise specified, the Website is intended for your personal use only.